Flying Areas
Egypt has been one of the most exciting destinations for many centuries. The unique temples, museums, vibrant cities, breathtaking landscapes and magnificent underwater world promise an unforgettable experience.
Egypt is not only a holiday destination for culture vultures as many leisure and sports facilities prove, especially in tourist areas along the Red Sea it is the combination of beach and cultural holidays, which makes Egypt one of the most interesting tourist destinations worldwide. Short flight times from Europe, nearly 365 sunny days a year and affordable prices ensure that every year more and more tourists visit the region in order to indulge in a luxurious vacation.
In Egypt you can find anything your heart desires, except flying areas. Until we came...
Egypt is an almost totally undeveloped land in terms of flying sites. Flying was previously allowed only for military aviation and commercial air traffic. Most kinds of air sports were previously reserved exclusively for the military and its associated clubs and associations. The chance for private sport pilots to look at the land of the Pharaohs from above has just developed slowly since the end of the revolution in 2011.
Immediately after the end of the revolution in spring of 2011, we began to apply for the necessary licences and collaborations with the new government, the existing air sports associations, government districts and many other state institutions. After nearly a year, we are now authorized as the first and only company (For Leaders Co.) to carry out organized paragliding-tours and air sports events in Egypt. These permits are primarily related to the area around Hurghada which offers at the present time the best flight and training opportunities, along with a good infrastructure and the nearby airport Hurghada (HRG).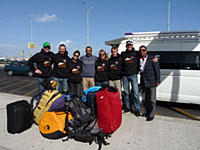 In January and February 2012, we started with official approval to explore the first flight areas in the mountainous regions along the Red Sea. With a team of 10 experienced people, including members of the German Hang Gliding Association (DHV), the Egyptian Sport Parachuting & Aeronautic Federation (ESPAF) and the flight school FlyART our first flight and training areas beside the Red Sea were explored, tested and finally set. At this point, our thanks to everyone for their skilled support in this pioneering project! Our exploration tour took us from the coast of Hurghada, south towards Sudan, Safaga, via El Quseir up to Marsa Alam.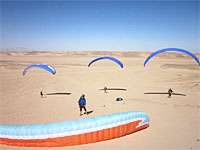 We found various opportunities to practice paragliding. Many small sandy slopes offer ideal landing conditions. A laminar wind, often lasting for several hours and large obstacle-free surfaces, with fine soft sand and warm temperatures, especially in winter, provide us with a "game desert" like a picture book.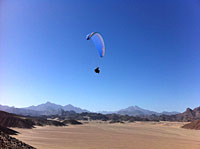 Our practice playgrounds are framed by the imposing mountain ranges of the Egyptian desert. Mountains in Egypt? Yes, there are a number of mountains and these even can compete with many in the Alps!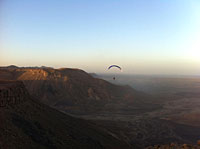 The mountain, Mount Catherine (Mount Sinai). At 2642 meters above sea level, Mount Catherine is the highest mountain in Egypt, followed by many other high mountains, especially on the Sinai Peninsula. Here you will find further 12 mountains over 2,000 meters and endless smaller mountain ranges. Due to the sensitive political situation in the region, flying is still strictly forbidden. But we are working on it....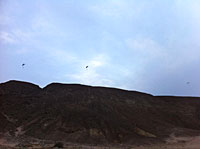 Our 'home mountain', located west of the Sinai Peninsula over the metropolitan area of Hurghada and El Gouna, is the starting point of our tour, easily accessible within 20 minutes by our Jeeps. A laminar wind provides excellent soaring conditions along the massive mountain ranges of the Red Sea and invites, especially in the evenings for long flights. The lunch hours are often characterized by strong thermal winds, which can be generally relied on to ease in the evenings.